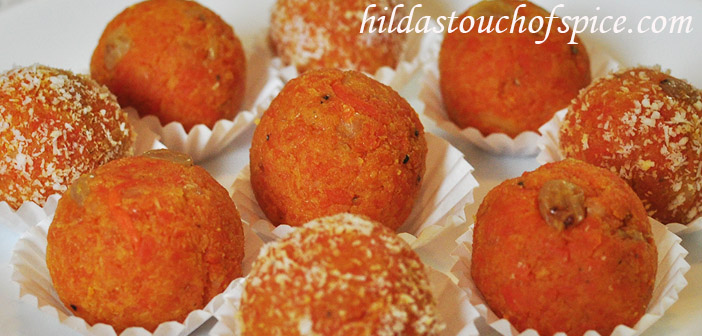 Two of my eternal favorites… Carrots and Coconut. Just can't do without them! 🙂 They bind beautifully to form into gorgeous,sweet and yummy ladoos. A perfect ball of melt in the mouth goodness to satiate that sweet craving.
A ladoo is an incredible, timeless Indian mithai and is on the top of the festive and celebratory list of Indian sweets. In this recipe, highly nutritive and healthy carrots and coconut make a super pair in a ladoo and is a sure winner especially during festive occasions.
There are quite a few colors and varieties of carrots but the bright and deep orange carrots are popular and easily available in India.Small, crunchy and light orange carrots grown in Mahabaleshwar and Panchgani are famous in Maharashtra.Regular Indian carrots are deep orange, long and not as firm. Both varieties are equally good to make these lovely ladoos.
Being a Goan, I love Coconut and I use it liberally in all my traditional Goan sweets, curries, savouries and salad. People from Konkan coastal belt and all coastal regions will vouch for the life giving and sustaining gift of nature – The beautiful, gorgeous, healthy and nutritive "Coconut" which is a natural coolant and has immense medicinal, soothing and healing power.
Try this simple, easy and quick recipe for an elegant and awesome ladoo, this Diwali.Serve and gift a combination of traditional and modern ladoos and make the festival of lights extra special… 🙂
Look at these spectacular bright orange Carrot Coconut Ladoos which are so dainty and prettily decked in pristine white coconut lace. Does it remind you of snowflakes? Kids who are not fond of carrots will surely want to eat these beauties. J
Brighten and light up your sweet platter this festive season with Carrot Coconut Ladoos and Beetroot Barfi / Chukandar ki Burfi.
Below is a list of some of my favorite traditional ladoos to consider including on your festive sweet table…
Rava Ladoo (Semolina / Suji Ladoo)
 Ingredients:
 250 gm Carrots; wash, peel & grate
150 gm dessicated Coconut + for rolling
75 gm Khoya / Mawa / Khoa (optional)
¼ cup Milk Powder
½ cup sweet Condensed Milk or to taste
3 tbsp Pure Ghee
100 gm Sugar or to taste
1 ½ tsp fresh Green Cardamom Powder
3 tbsp slivered unsalted mixed Nuts + few raisins (optional)
1 tsp Rose Water
Procedure:
In a sufficiently broad, thick bottomed pan; preferably a pressure cooker body or a non-stick pan, roast crumbled mawa until lightly pink and fragrant. Transfer to a bowl.
In the same pan, melt pure ghee on medium heat.
Lightly fry nuts; if using and set aside to cool on a plate lined with tissue paper.
Now add the grated carrots and sauté for about a couple of minutes on low heat.
Stir in the dessicated coconut, green cardamom powder and again sauté for a minute.
Add mawa / khoya and stir until well combined.
Add sugar; stir to melt and sauté until the mixture is almost dry.
Mix milk powder with condensed milk until smooth and without lumps and add to the carrot mixture and stir well.
Stir in the rose water.
Continue stirring the mixture on low heat and cook until the mixture starts leaving the sides of the pan.
Stir in fried nuts and raisins.
Transfer the mixture onto a tray or plate and let it cool.
When warm and easy to handle; bind into balls / ladoos.
Roll them in dessicated coconut.
Refrigerate the Carrot Coconut Ladoos until firm.
Serve or gift in cupcake liners.
Store refrigerated in airtight containers. Keeps well for a week.