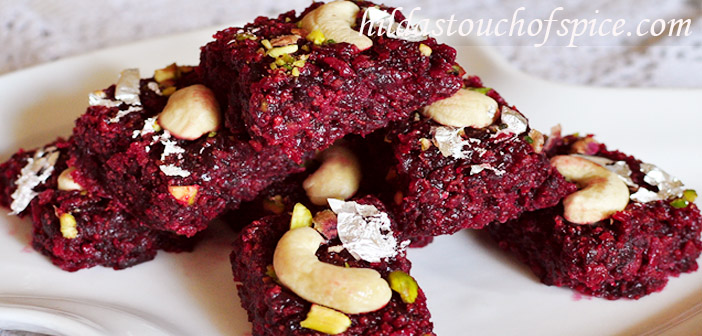 Beetroot or Chukandar in Hindi is such a sensational root vegetable. There are quite a few varieties and colors of beetroot but the red beetroot is easily available in India. Beetroot along with its leaves are edible and you can use your creativity to prepare a wide range of attractive savory and sweets with it.
Today's recipe is the popular Beetroot Barfi / Burfi. I actually made this barfi for Valentine's day a long time ago and it remained in the drafts until now. I have been irregular with my postings as priority has been my health. With Diwali around the corner, I feel it is a recipe I want to post to feel the warmth, love, vibrancy and festivities Diwali is associated with.
So here is one of the barfi recipe with beetroot which is very dear to my heart. Beetroot burfi / barfi is so delicately soft and elegant to serve on your sweet festive table. It has all the sweet aromas and a treat to your taste buds with the inclusion of lush khoya / khawa, the magic of sweet condensed milk and the royal flavor of green cardamom and of course sugar. The pure ghee binds it all together to be rolled out like a royal red carpet studded with crunchy nuts and glitter of edible silver leaf which makes the Beetroot Barfi spectacular.
Celebrate Diwali… the festival of lights with this Beetroot Barfi. Let it bring warmth and love in your hearts and that of your loved ones. Let your sweet table sparkle and may the sweet taste linger throughout the festive season.J
Here's some more barfi/ burfi which you could consider for your sweet table and / or for gifting…
Sev Barfi (Sindhi Singhar Jhi Mithai)
Coconut Burfi / Nariyal Burfi / Khobbari Paak
Here's wishing all visitors and followers "A Very Happy, Prosperous and Peaceful Diwali."
Ingredients:
3 Beetroot
100 gm Khoya / Khoa / Khawa or to taste
2 tbsps Pure Ghee
2 tbsp sweet Condensed Milk (optional)
150 gm Sugar or to taste
1 tsp fresh Green Cardamom Powder
Garnishing:
Cashew nuts / Almonds / Pistachios – slivered or halved
Chandi Vark / Edible Silver Leaf
Procedure:
Wash, peel and grate beetroot.
In a sufficiently broad, thick bottomed pan; preferably a pressure cooker body or non-stick pan, roast crumbled khoya until lightly pink and fragrant. Transfer to a bowl.
In the same pan, melt pure ghee on medium heat.
Add the grated beetroot and sauté until almost dry.
Add sugar and cook further until moisture evaporates.
Stir in the roasted khoya and mix until well blended.
When the beetroot mixture is sufficiently thick; add sweet condensed milk; if using and stir to combine well.
Stir in green cardamom powder.
Continue cooking until it starts leaving the sides of the pan.
Pour the beetroot barfi mixture in a greased tray and spread evenly to desired thickness.
Decorate with nuts and silver leaf / chandi vark.
Let the beetroot barfi cool completely and then transfer to the fridge.
When completely set; cut into desired pieces.
Enjoy your delicious Beetroot Barfi / Burfi.