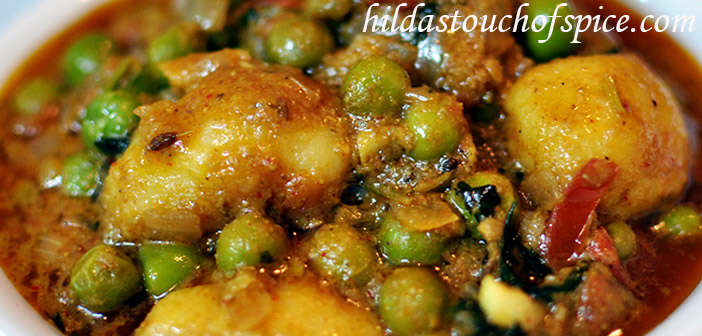 Potatoes and Peas… Aloo Matar… complement each other perfectly in this delicious gravy. I love them both equally and can't get enough of them. I am a little partial to this preparation of Aloo Matar Gravy which is reasonably thick and sinfully rich.It brightens up many of our weekends with fabulous pooris and is a welcome vegetarian treat after a tiring and hectic week. Sometimes, we include this preparation of Potatoes and Peas Gravy in our celebratory parties too.
I am happy to share this recipe for Aloo Matar Gravy / Potatoes & Peas Gravy which is very dear to me and I hope it will be to you as well when you dig into this sumptuous delight. 🙂
Relish it with pooris, rice, pulao or any Indian bread of your choice and satiate that special craving for it!
Ingredients:
300 gm Baby Potatoes or Potatoes
¾ cup fresh / frozen Green Peas
3 tbsp Refined Oil or Pure Ghee
Salt to taste
Procedure:
 Wash and pressure cook baby potatoes in their jackets for 2 whistles (depending on the size). Potatoes must be cooked but lightly firm. Peel and lightly prick them (optional).
If using big potatoes; then cube or quarter them after boiling in their jackets or peel raw, cube or slice into quarters and fry before using in the gravy.
If using fresh green peas; separate them from their pods and then boil in enough water until cooked but lightly firm.
In a sufficiently deep and broad pan; heat oil and lightly fry the boiled baby potatoes for a couple of minutes. Drain and set aside.
For the Gravy:
 2 Bay Leaves
1-inch piece Cinnamon
1 Black Cardamom
2 Green Cardamom
2 flakes Mace (Javitri)
A hint of Nutmeg (Jaiphal)
2 tbsp Coriander powder
¼ tsp Cumin powder
1 tsp Red Chilli powder or to taste
¼ tsp Garam Masala powder
¼ tsp Shahijeera
3 tbsp fresh Ginger-Garlic paste
½ cup Brown Onion paste
4 tbsp Cashew nut paste
½ cup Tomato puree
175 gm whisked Curds (not sour)
¼ tsp Sugar (optional)
5 tbsp Refined Oil or Pure Ghee
Salt to taste
Freshly chopped Coriander Leaves
Preparation of Gravy:
 In the same pan, fry the whole spices except bay leaves in one tablespoon of oil.
Add the ginger-garlic paste and sauté until the mixture gives out oil.
Now add the all the powder spices, nutmeg, mace and sauté until cooked.
Grind to a paste when the mixture cools down. Transfer the paste to a bowl.
Rinse the grinder with some water and mix into the ground spice paste. Strain to get a smooth paste.
Heat the same pan heat the remaining oil. Add shahijeera and bay leaves. Let it splutter. Then add the above smooth spice paste and cook for a few seconds.
Next, add curd, brown onion paste, cashew nut paste, tomato puree. Stir and cook until the sauce separates from the oil. Add a dash of salt and sugar.
To this gravy; now add the lightly fried potatoes.
Strain out the liquid from the freshly boiled peas and add them to the gravy with potatoes. If using frozen peas; thaw and rinse in water and then add to the gravy.
Stir well and add a cup of water or as per desired thickness of gravy.
Bring to a boil; and then simmer for about 5 minutes.
Adjust seasoning; if necessary. Stir and cook for another 2 minutes.
Garnish with freshly chopped coriander and wedges of lime.
It is good to allow the flavors to meld for about 10 minutes before serving.
Serve hot with pooris, jeera pooris, phulkas, chapatis, rotis, naan or with jeera fried rice, pulao or steamed rice.