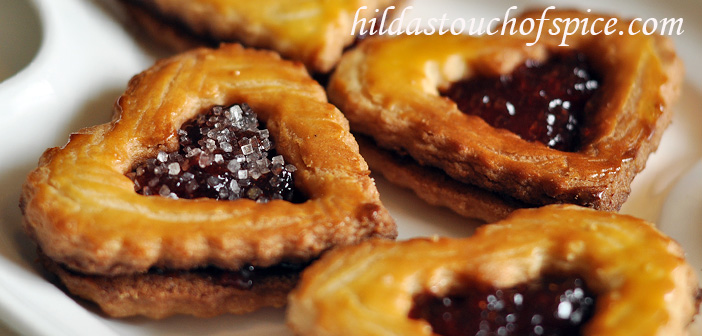 These are gorgeous Austrian Cookies /Biscuits which are known as Linzer Kekse and are usually made with almond dough and sandwiched with preserves.They are also popularly known as Window or Jam Sandwich Cookies / Biscuits.
Loved by all; these cookies are so good to gift at Christmas, New Year, Diwali and all festive as well as celebratory occasions. These cookies are easy and so pretty; a good activity to involve kids to keep them creatively active and busy. They are awesome to serve at kids' birthday parties and even better as thank you giveaways.
Like all biscuits and cookies they are so handy and non-messy. When you are busy with chores simply dip into your cookie jar and help yourself to it. Wonderful as a mid-morning snack and good to pack in your kids tiffin boxes. Make a batch over the weekend and will save you a lot of time when you are busy and in a hurry. So delicious with a cup of tea, coffee or with a glass of milk.
Use your creativity skills to make any shape or size and sandwich them with your favorite jam or preserves. I made these Linzer Heart Cookies / Jam Heart Sandwich Biscuits for Valentine's Day. Please also check my Almond Cookies recipe if you prefer plain ones.
Just look at the pic. Aren't they pretty? Bake and beautify for your Valentine with love. I just did! What about you?
Ingredients:
150 gm whole Almonds; blanched
250 gm Maida / All Purpose Flour
½ tsp Salt
Zest of one Lime
225 gm unsalted Butter @ room temperature
150 gm Castor Sugar
1 tsp Vanilla Essence or Extract
2 Egg Yolks
To Sandwich / Filling / Topping:
Your favorite Jam or Preserves (I used Strawberry Jam)
Procedure:
First, place the blanched almonds on a baking tray and bake in a preheated oven at 180C or until very lightly brown.
Grind the cooled almonds with 50 gm sugar to a very fine powder.
In sufficiently large bowl, sift flour and salt together. Whisk in lime zest.
Beat butter with remaining sugar until light and fluffy. Next beat in vanilla, egg yolks, almond powder and flour.
Divide the dough in half; wrap each ball of dough in cling film and refrigerate until firm.
Line 2 baking sheets with parchment.
Roll out one ball of firm almond cookie dough into ¼ inch thickness or as you prefer between two sheets of plastic wrap/ cling film or on a lightly floured board.
Using a 3 inch heart cookie cutter or dimensions you prefer, cut out cookies. Place the cookies about an inch apart on one of the baking sheets.
Use a smaller heart cookie cutter to cut the centres of half of the cookies on the baking sheet. You can bake the smaller cookies to get plain Almond Cookies if you want or knead the dough scraps and roll out again to make more sandwich cookies.
Repeat the process with the second ball of chilled cookie dough.
If the dough is soft. Chill the unbaked cookie sheets to firm up before baking.
Bake the cookies in a preheated oven at 180C for 10 to 12 minutes or until the edges are lightly brown and then cool on a wire rack.
Assembling of the Linzer Heart Cookies / Jam Heart Sandwich Biscuits:
Spread a layer of enough jam on the bottom surface of each full cookie and place the bottom of the cut out cookie on top of it so as to gently sandwich them; by doing so the crisp tops should be visible. Pipe or fill more jam in the cut-outs, if needed.
You may sprinkle some sugar crystals in some if you wish.
Arrange the finished Linzer Hearts / Sandwiched Biscuits on a platter.
I did not dust the cut-outs with powdered sugar but you may do so if you like.
It is preferable to assemble the cookies on the day of serving or gifting.
Assembled cookies should be refrigerated in an airtight container to retain freshness.
Serve and gift with love.