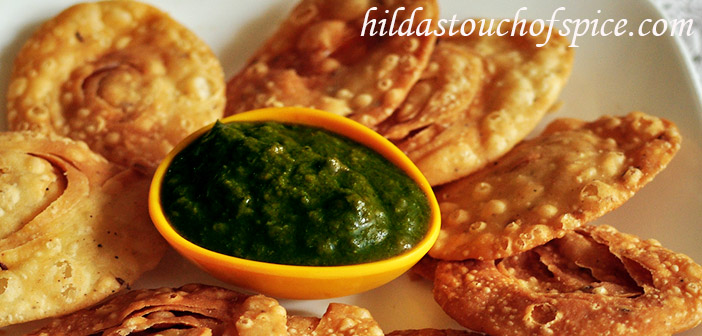 Mathri needs no introduction as it is an extremely popular traditional North Indian anytime snack especially in Punjab. This Khasta / flaky pastry is usually prepared during festivals and celebratory occasions. Homemade mathris are a dream to be simply enjoyed with an assortment of home fresh chutneys, sauces, dips and / or pickles.
It can be made with various combinations of flour and spices to achieve different thickness, texture, shape, size and flavor you desire. After all, it is all a matter of personal taste and preferences. The technique of kneading and deep frying is crucial to get light, crispy and flaky / khasta mathri every time.
Today's Khasta Punjabi Mathri basic recipe is from my school recipe book and is very close to my heart. My hand written recipes jotted with a fountain pen are surprisingly intact! The ink is not smudged but the pages have turned brittle and yellow with age. My school recipes have always been a success and I am proud that I took good care of it. It has survived all calamities and is going strong!
I am eternally grateful to my alma mater "St Anne's High School, Pune."My school gave me so much at little or no cost. All extra-curricular activities for an all round development which was not only primary but essential for the growth of students were a part of our school curriculum. There were times when we would kick up a fuss and felt it was a waste of time but eventually; especially now we realize the worth and value of true education imparted to us selflessly. Gratitude is what I have in my heart to the nuns, the teachers and management for inculcating not just education but imparting good values to us. A legacy for life which I have imbibed and brought up my kids with and have made a conscious effort to implement in my daily life.
This lovely recipe was taught in our school cooking class for Khasta Punjabi Mathri with the beautiful layers. This famous and much loved savory snack / cracker which is lightly salted, crispy, flaky and mildly spiced is rolled like the popular sweet "Phenori" in Konkannim and "Chirote" / "Chiroti" in Marathi which is prepared to celebrate festivals. I have to say that I am partial to this shape of fanned out layers on a festive celebratory platter. Usually, we like to enjoy it with a cup of tea and as a snack with green chutney which we like. I will post the recipe later.
So here is the recipe for you which I am happy to share. Add this gorgeous Khasta Punjabi Mathri to your gift hamper with all your sweet goodies which I am sure will be much appreciated. Serve it on your festive sweet goodie table and savor the joy of festivities with your loved ones.
Make a batch on weekends and keep them handy to serve unexpected guests, makes a good starter to serve at parties, wonderful to pack in short break tiffins, have a good shelf life, great as travel food, awesome on picnics and does make breakfast and tea time extra special. 🙂
Ingredients:
2 cups Maida / All Purpose Flour
½ tsp Black Pepper powder or to taste
1 tsp Ajwain / Carrom Seeds
1 tsp Jeera / Cumin Seeds
4 tbsp Pure Ghee or as needed
Salt to taste
Water as needed for the dough
Vegetable Oil or deep frying
Procedure:
Sieve the flour with salt and mix in all the dry spices with your fingers.
Rub in 2 tablespoons of ghee into the dry flour mixture until it resembles bread crumbs.
Add a little water at a time and knead into a soft, pliable dough which is reasonably firm to roll out.
Cover the dough with a damp cloth and set aside for about 15 minutes.
Divide into 2 balls of dough or as comfortable to handle while rolling.
Roll out each ball of dough into a chapati which is reasonably thick but not too thin; without using dry flour for rolling. Alternatively, you may roll it between two sheets of parchment or plastic sheets.
Apply ghee liberally to the entire rolled out chapati and roll into a tight cylindrical roll just like you would for "Phenori".Repeat the same process with the other ball of dough.
Cut each roll into 1-inch pieces and roll each piece gently into circles / discs or into desired shape.
Roll lightly to retain the layers of concentric circles.
Set them on a tray and cover with a damp cloth until frying time.
Heat oil for deep frying in a kadhai / wok.
Deep fry the mathris in batches on low to medium heat. Adjust flame accordingly.
Baste the top of the mathris with hot oil with a slotted spoon to puff up and enable the separation of the layers.
Flip to fry on both sides until lightly golden and crisp.
Drain completely and transfer to a tray lined with absorbent kitchen towels / tissue.
Cool mathris at room temperature. On cooling completely, the mathris will be flaky.
Store in airtight containers and consume within 15 days.
Serve Khasta Spiced Mathris with your favorite pickle or chutney.
Enjoy as snack or relish with hot cups of Indian chai or your favorite tea or coffee.