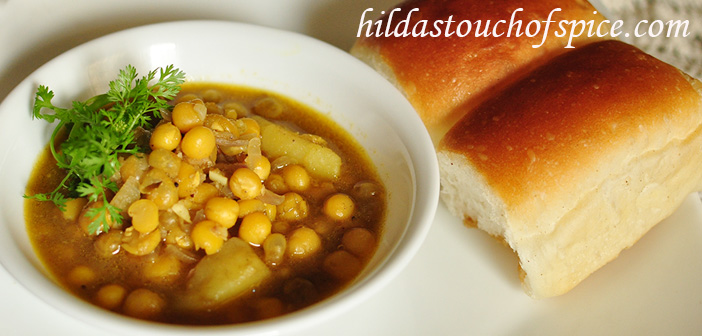 Usually enjoyed at breakfast, Goan Bhaji Pav /Tonak / Patal Bhaji can be eaten as an anytime snack or even as a light lunch or dinner. In Goa, it is easily available on the carts, wayside small eateries or served in local restaurants and is considered as street food.
The preparation is simple, easy and tasty. Dry whole spices as well as wet ingredients namely, fresh grated coconut and onion is roasted until lightly fragrant and aromatic. They are then ground to a paste and added to soft boiled white peas and potatoes to dish out a delicious bhaji. The finished bhaji has a fairly thin gravy. The potatoes and peas can be scooped easily with pav and the gravy is also easily absorbed by the pav so it is really very comfortable to eat and relish it. It can be eaten with puris and chapatis too. There are quite a few variations to this Tonak / Bhaji Pav / Patal Bhaji. Whichever way you choose it is delicious but the selected popular bread is pao. After all we Goans cannot do without our pav and so we serve with pav /pao.
Do give it a try… may be at breakfast or make it a simple meal. Enjoy! 🙂
Ingredients:
½ cup dried White Peas / Ragda White Vatana
2 med Potatoes (washed, peeled & chopped into chunks)
1 med Onion (peeled & finely chopped)
A pinch or two of Turmeric powder
¼ tsp dry Kashmiri Chilli powder or to taste
Salt to taste
Sugar to taste (optional)
5 tbsp Coconut Oil or Cooking Oil
2 tbsp fresh Coriander Leaves (finely chopped)
2 tbsp fresh Tamarind Extract or to taste
Whole Spices:
4 Whole Black Pepper
½ inch Cinnamon
6 Cloves
2 petals Star Anise without seeds
1 petal Mace
A dash of Nutmeg
1 tsp each Fennel & Poppy Seeds
½ cup fresh grated Coconut
1 med Onion; peeled & thinly sliced
Procedure:
Wash and soak the white peas (vatana) in water for about 4 hours.
Pressure cook the vatanawith potato chunks, turmeric and a little salt for about 4 whistles. The peas and potatoes must be cooked soft but not too mushy.
Heat a tablespoon of oil and sauté sliced onions until lightly golden. Add the coconut and further sauté until the coconut turns brown and gives a good aroma.
Dry roast all the whole spices on a low flame until well roasted and aromatic.
Grind together the coconut mixture, dry roasted spices, chilli powder and sugar with water to a thick, smooth masala paste. Rinse the grinder with some more water and use to make the gravy.
Heat the remaining oil and sauté the chopped onions until it turns lightly brown.
Add the ground spice paste and fry for a few seconds on low heat. Stir in the reserved spice liquid.
Add the cooked vatana and potatoes alongwith the cooking liquid and tamarind extract.
Stir and cook on medium for a few minutes. Add water if necessary to give a reasonably thin gravy consistency.
Add chopped coriander. Adjust seasoning if necessary.
Stir and cook to desired thickness of the gravy. Remember on cooling the bhaji will thicken further.
Serve Goan Bhaji Pav / Patal Bhaji /Tonak with pao, bread, chapatis or pooris.