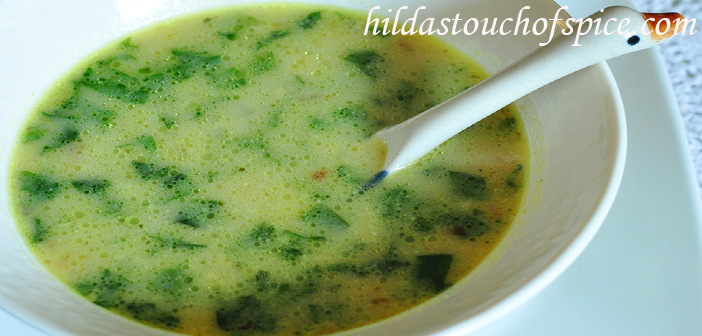 Caldo Verde is a popular soup in Portuguese cuisine and is equally a part of Goan cuisine too. Traditionally, this soup or green broth is usually prepared and served on festive and celebratory occasions in Portugal and Goa. Caldo verde features prominently on restaurant menus and it is even better when you can enjoy without restrictions whenever you feel like enjoying some in the comfort of your home.
Classic Caldo verde is prepared with Kale and / or collard greens. This is a mild comforting soup and I made this into a vegetarian one with spinach / palak. There are several variations to Caldo verde which I make and we enjoy them all.
The addition of boiled and sliced chourico or linguica without the residual liquid from the sausages at the end of the cook makes it not only non-vegetarian but that is the traditional and classic soup. In the absence of sausages, you can use meat stock / broth or include shredded meat which is not the original way. Again, it's a matter of preference and personal choice.
Caldo verde is simple, easy and quick. The important ingredient in this soup is potatoes which is an essential thickener. Unfortunately, diabetics and people having health issues cannot partake of Caldo verde. This is a non-spicy soup and very good for children. The addition of milk further enhances the nutritive value along with beautiful greens which is nourishing, soothing and comforting to the digestive system.
My family loves it and I make it ever so often. Will post other versions later. Caldo verde disappears very quickly and it's a task to click photos every time I make it.
Winter is here and the time is right for comfort in a bowl and this Caldo verde sure warms up the heart and soul. 🙂
Ingredients:
4 med Potatoes
1 med Onion; peeled & finely minced
3 flakes fresh Garlic; peeled & finely minced
½ tbsp Vegetable or Olive Oil
3 tbsp Milk Powder or 1 cup creamy milk – to taste
4 cups fresh Vegetable / Chicken Stock or broth /or Bouillon Cubes
15 fresh Spinach Leaves / Collard Greens
¼ tsp Sugar (optional)
Salt & Pepper to taste
Procedure:
Pressure cook washed potatoes in their jackets until soft. Peel and mash to a smooth texture.
Wash and blanch spinach leaves. Slice them into ribbons or roughly chop them.
In the absence of fresh vegetable / chicken stock or broth; you may use soup cubes to taste. Dilute them in a ½ litre hot water.
Dilute milk powder to pourable consistency with a few tablespoons of vegetable stock or alternatively 1 cup creamy milk or to taste
In a pressure cooker body / soup pot or a sufficiently deep and broad pan; heat oil until just hot.
Sauté onions and garlic on low until onions are soft and translucent.
Add the vegetable stock and bring to a boil.
Add mashed potatoes and mix well. Cool the mixture and puree in a blender.
Pour the contents back in the pot and bring to a boil.
Stir in the milk and sugar (optional).
Add sliced spinach and pepper to taste. Simmer for a couple of minutes.
Adjust seasoning if necessary.
Serve Caldo Verde piping hot with crusty bread or enjoy plain.