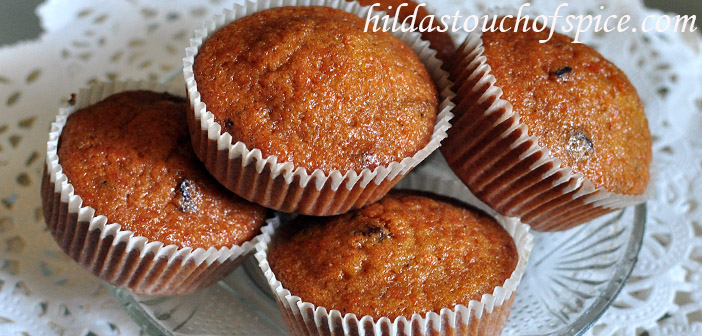 Carrots are the most popular root vegetable all over the world. In India, they are known as Gajar. Most of us are familiar and love orange carrots but they are also cultivated and sold in beautiful colors viz. red, purple, white and yellow. Carrots are used in cooking, baking, roasting, grilling, in salads, etc. Many do not love carrots in savouries but prefer them in sweets and cakes. If you like salad and savouries then you could try my popular carrot recipes; Carrot & Apple Muffins,Fresh Carrot & Grape Salad, Gajar ka Halwa.
Today's recipe is Carrot Cupcakes which can be baked as a holiday treat. They are light, moist, fruity and with some crunchy nuts. A good way of including carrots in your diet; especially for kids who do not like to eat carrots. These individual sweet goodies are delicious and nutritious as a snack or teatime treat. They are ideal to gift and a super no mess dessert.
Give these Carrot Cupcakes a try and you may want to bake them often! 🙂
Ingredients:
1 cup Maida / All Purpose Flour
¾ cup Caster Sugar or to taste
1 tsp Baking Soda
½ tsp Salt
1 tsp Cinnamon Powder
¾ cup Vegetable Oil
2 Eggs Beaten
1 tsp Vanilla Essence / Extract
1 cup fresh Carrots (peeled & shredded)
½ cup canned Pineapple (drained & cut into small pieces)
½ cup Pecans or Walnuts; coarsely chopped(optional)
½ cup Raisins (optional)
Procedure:
Pre-heat oven at 150C and line muffin tray with paper cupcake liners.
Sift all the dry ingredients; flour, salt, cinnamon powder and baking soda.
In a sufficiently large bowl, beat together wet ingredients; eggs, sugar, oil and vanilla essence.
Gently combine dry ingredients with the wet ingredients.
Then fold in carrots, nuts, raisins and pineapple.
Fill cupcake liners ¾ full with cake batter.
Bake for 15 to 20 minutes or until a toothpick comes out clean.
Cool cupcakes completely before serving or frosting.
Makes about 14 to 16 Carrot Cupcakes.