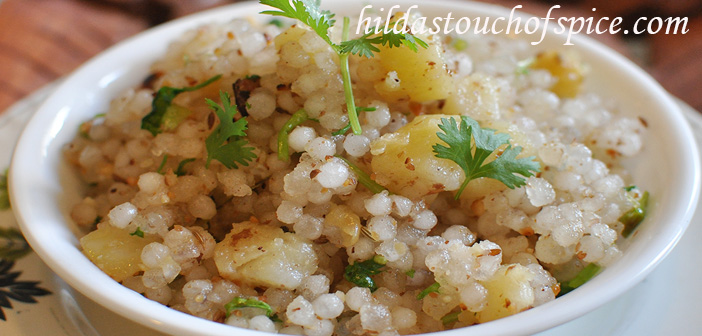 Sabudana or Tapioca Pearls is also known as Sago. It is popular as fasting food (Vratka Khana) in India. Sabudana preparations are usually fortified with the addition of potatoes and peanuts to increase its nutritive value. Peanuts add the lovely crunch and the nutty roasted flavor is just irresistible in the khichdi. Addition of ginger and cumin aids easy digestion. Since it is quite bland, green chillies further enhances and kicks in the much needed spicy taste. Curds, lime juice or milk makes the khichdi soft and pliable. You can choose to add in as per your preference and palate to bring in that desired tang and balance to the khichdi. Fresh coriander leaves makes it flavorful and color to the khichdi.
The quality of the sabudana determines the texture and flavorof the khichdi and/ or vadaand it is always better to do a trial with each batch of sabudana that you purchase. Sticky sabudana is fine for the vada but khichdi demands free flowing and separate cooked grains of sago / tapioca pearls. It is a test for a homemaker and some give up while others who persevere do achieve success and finally master the technique to get the perfect texture of the sabudana khichdi.
Sabudana Vada and Sabudana Khichdi is very popular but quite a few savouries are also prepared and enjoyed by many who are familiar with it. Sweets, puddings and kheer are also prepared not only in India but also in quite a few countries in the world.
Sabudana Khichdi and Sabudana Vada is usually made during fasts (vrat) at Mahashivratri, Ekadashi and Navratri. It can be enjoyed as breakfast, meal or any time snack. I usually make it for evening tea and it tastes so good in the monsoon and cold winter months with a hot cup of adrak chai or masala chai! 🙂
My family loves Sabudana Khichdi and I make it whenever we feel like eating it. In Pune (Maharashtra), we have restaurants, road side eateries and small stalls serving delicious sabudana treats throughout the day especially for breakfast and on fasting days and we do patronize eateries but we relish home fresh too. We love it with KhamangKakdi and I do make a big bowl of it. Sabudana Khichdi and Sabudana Vada tastes divine with an accompaniment of Khamang Kakdi.
I have posted the Sabudana Vada but just realized that Sabudana Khichdi post is in the drafts since quite a few years! Here it is for all who love it just the way we do… 🙂
Ingredients:
1 cup Sabudana/Tapioca Pearls
2 med. Potatoes (boiled tender, peeled & cubed) or as needed
3 fresh Green Chillies (destem, deseed and finely mince) or to taste
2 tsp Cumin/Jeera Seeds
½ cup roasted Peanuts, coarsely powdered with or without skin
1 tsp freshly grated Ginger
2 tbsp whisked, Curds / Dahi (optional) or milk
1 tsp Sugar or to taste
Salt to taste
4 tbsp Cooking Oil to taste or as needed
1 tbsp Pure Ghee (optional)
A handful of fresh Coriander Leaves
Suggested Accompaniments: KhamangKakdi (Cucumber Raita) or Lime Wedges / Quarters
Procedure:
Check sabudana for any impurities and then wash with normal water until the water runs clear. Strain each time with a fine mesh strainer.
Soak in ¼ cup water for about 4 hours or overnight in a deep bowl.
The sabudana will plump up after it is soaked well. Strain to drain off excess water, if any.
Heat oil and ghee in a kadhai on medium heat until hot.
Reduce heat to low; add cumin seeds and allow to sizzle for a few seconds.
Add grated ginger, minced green chillies and sauté for a couple of seconds.
Add the boiled potato, ¼ tsp salt and stir to fry lightly. After a minute drain and transfer the fried potatoes in a bowl.
Now add the soaked sabudana to the kadhai and sauté until the sabudana pearls are well coated.
Toss in the coarsely powdered peanuts to the kadhai and mix well.
Next, add salt to taste and sugar and give it a good mix.
Stir in whisked curds or milk.
Cover and cook on simmer for 2 to 3 minutes in its own steam; stir in between and sprinkle some water over it if necessary to avoid sticking to the bottom.
Cook until Sabudana Khichdi is soft and translucent.
Serve hotSabudana Khichdi in bowls garnished with freshly chopped coriander and accompanied with KhamangKakdi (Cucumber Raita) or with lime quarters / wedges.
Tips & Suggestions:
If you intend using raw potatoes; peel, cut potatoes into reasonably small cubes. Soak them in water for a few minutes; drain to remove excess starch and then fry them along with the spices with some salt until cooked. In this case, you may directly add sabudana to the kadhai and cook it.
You can mix in coarsely powdered peanuts into the soaked sabudana before cooking.
Milk can be used instead of curds /dahi to keep the sabudana khichdi soft.
If using curds; use fresh creamy curds and not sour curds.
Use peanuts to keep the cooked grains of sabudana separate and not clumped. Avoid peanuts if you are allergic to it.