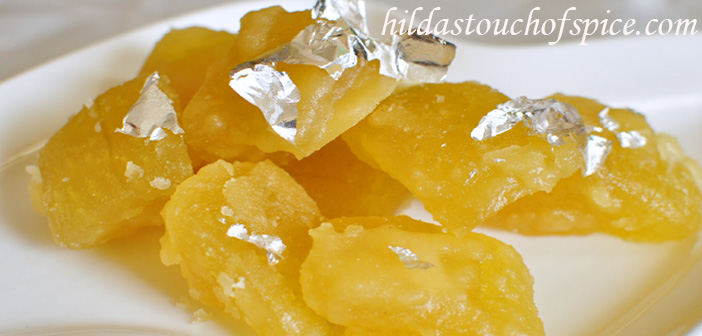 I have been thinking of posting my maternal grandmother's favorite sweets and candy which is long overdue. My grandmother was the most inspiring, motivating and encouraging person in my life. Liberal in her thinking and a bundle of surprise. I always felt that she was ahead of her times.She took much pride like a true Goan in dishing out Goan meals, desserts and sweets for us but she baffled me with her love forall cuisines thus breaking all barriers. Growing up in her care, I have equal respect and love for all cuisines across the world.
My grandmother (Mama) as all who knew her would call her affectionately; was fortunate to experience various cuisines due to her dad's postings in different parts of India. She also had a long stint after her marriage in Africa. Many a time when she got nostalgic, she would prepare African food for us even though she had to compromise on ingredients which were not available.
When I started blogging and posting all our favorites especially Goan cuisine, I did want to post her other favorites especially her all-time favorite Indian sweets (mithai and candy) which she never got tired of! On second thoughts, I now realize that the mithai and candy she loved so much was never prepared at home! They were always store bought ones. I did get an opportunity to observe the process of mithai making in open kitchens set up during weddings and pujas and made them but not the Agra Petha.
A few years ago, I made her favorite Agra Petha and clicked the photos and then it just remained in the drafts as I fell seriously ill. I have so much in the drafts. I am saddled with back log simply because I need to write my fore word. Any ways, better late than never. I so wanted to post this recipe for Agra Petha on 2nd October which was her 110th birth anniversary and then again I was unwell. Now that I feel better, I just want to post it for the love of my Mama and the love for this simple Pethaeven though it is a little laborious and time consuming. I am sure my Mama must be so happy and beaming with joy from heaven. I know she would have been so excited and would have relished it with pride.
The gorgeousPetha is a North Indian translucent candy / dry preserve and is popular as "Agra ka Petha" which started off in the royal kitchen of the Mughal emperor Shah Jahan in Agra. The original petha was pure white with the royal flavor of rose and kewra. With the growing demand for variety and to entice the customers, the mithaiwallas gave vent to their creativity to make it special and unique with new flavors, colors, shapes and sizes. So the simple winter melon candy got a super makeover and brightened up the sweet table! We now have glamorous petha to suit every palate which looks pretty; rolled in coconut, dipped in chocolate and nuts on the display counters of many mithai shops.
I made this into Kesari Agra Petha on the spur of the moment when my family was busy at work. My hubby was in for a big shock. The saffron colored petha did not go well with him. He wasn't too keen to do the photography but finally took the photos on my insistence. I did promise him that I would make the traditional white petha another time which most are familiar with. Well, unfortunately I cannot keep the promise. My older son is not in favor of making it again and my health does not permit me even if I feel like going through the ritual all over again.
Initially, my family was not so happy with my decision to make the petha at home as we all know that it is so easily available and of excellent quality in the mithai shops. They simply felt it is not worth the effort but I was adamant! I knew it would be tedious but I wanted to give it a shot. The day I made this petha which was a long drawn process, it tested my patience and true love for my Mama and for this candy. Moisture is the biggest bane if you want make the dry petha. The syrupy one is so easy. I bought the Winter Melon / Ash Gourd in winter when it is in season and in abundance but unfortunately it was raining and the candy refused to dry. It took several days to dry and I was finally happy with the photo session. It shone like a star! My efforts paid off and that was my reward.
We could have enjoyed the soft syrupy petha but my grandmother loved the outer sugar crust and the crunch when you bite just like ice and the sweet nectar oozing deliciously with flavor in your mouth. I prefer the dry petha just the way my Mama did. 🙂
All gourds have high water content and is bland by itself. If you are making savouries or sweets with it; you need to fortify with flavouring to make it appealing to your vital senses and inviting to your tastebuds. Kewra and rose are pleasing to the senses and brings in a feeling of calmness and soothes you. The traditional pure white Agra Petha, transports me to the enormous Taj Mahal of Agra and reminds me of the first glimpse of the cool, marble monument which Shah Jahan built for his beloved Mumtaz.
To give a little insight and availability of the essential ingredients… viz. alum / fitkari and kitchen lime / calcium hydroxide /chuna.
*Alum is to retain the pristine white color of the beautiful petha. It is easily available in the grocery / kirana shops in powder and crystalline form. It is better to make a powder if you have crystals of alum to help dissolve quickly in water.
*Chuna is the edible one you get at the paan shops. It is available in small sealed plastic packets also. I bought mine from the local paanwala. This is an essential ingredient to get firm, ice like crunchy petha from within. It retains the structure and texture of the white pumpkin / winter melon / petha /ash gourd pieces.
So dear visitors, if you share my sentiment of making a little something for the ones you love and share homemade joy then this long awaited post for the Agra Petha is for you.
Agra Petha makes a great no mess dessert. Great to enjoy and gift at all celebratory and festive occasions. A good candy for kids to eat at short break and even better as travel munchies.
If you like it with sweet syrup then jazz it up in your favorite colors and flavors and light up your dessert table. 🙂
I wanted the petha to be royal and spectacular with Saffron / Kesar and it turned out beyond my expectations. If you like Agra Petha, then please do give it a try just the way I did.
Ingredients:
 1 kg Ash Gourd / Petha / Winter Melon / White Round Pumpkin
800 gm Sugar
2 tbsps Milk
1 tsp Lime Juice
½ tsp Alum / Fitkari
2 tsp Kitchen Lime / Calcium Hydroxide / Chuna
Water as mentioned in the procedure
¼ tsp Kewra Essence or to taste
1 tsp Rose Water
Saffron – few strands (optional)
Procedure: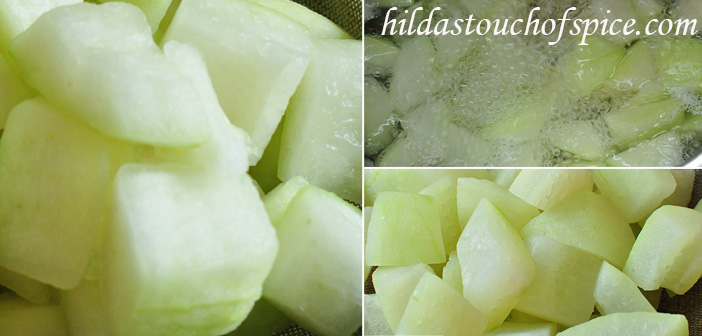 Dissolve alum/ fitkari in a litre water. Set aside.
Dissolve kitchen lime in a litre of water. Strain through a very fine sieve or cloth, if needed.
Wash, wipe dry, peel and cut ash gourd into 2 halves. Discard pith, seeds and then cut into desired size or into 2-inch pieces.
Prick each piece of raw ash gourd all over with a fork.
Soak the ash gourd / petha pieces in prepared lime water for 4 to 5 hours.
Drain out the lime water and rinse the pieces thoroughly with normal water to remove traces of lime.
Now boil the ash gourd pieces in alum water for 20 minutes. The pieces of petha will be translucent.
Drain and wash once again so that no trace of lime and alum remain.
Spread them out on a cloth or on kitchen towels to remove excess moisture.To speed up the process, dry under a fan.
Add 4 cups of water to sugar and boil to prepare a thick syrup.
Add milk to the syrup to clarify and separate impurities.
Let the scum rise to the top and then strain the syrup.
Again bring the syrup to a rolling boil.
Addlime juice and the reserved ash gourd pieces to the boiling syrup and stir well. Cook until the syrup is of three thread consistency.
Stir in the saffron strands, kewra and rose water.
Switch off the heat; cool completely
At this point you can serve soft Agra Petha in syrup if you so like.
In case you like it as candy then follow the below mentioned steps…
Using a slotted spoon; separate the petha from the syrup and transfer them on a large platter / tray or several plates.
Spread them out with enough space between the petha pieces.
The excess syrup can be used in preparing sweet desserts or in tea.
Leave to dry naturally or under a fan until an outer crust of sugar is formed. It should dry completely like candy.
Your Kesar / Saffron flavoured Agra Petha is ready!
Store in a dry place in an airtight container.
Enjoy Agra Petha as a dessert / sweet treat.