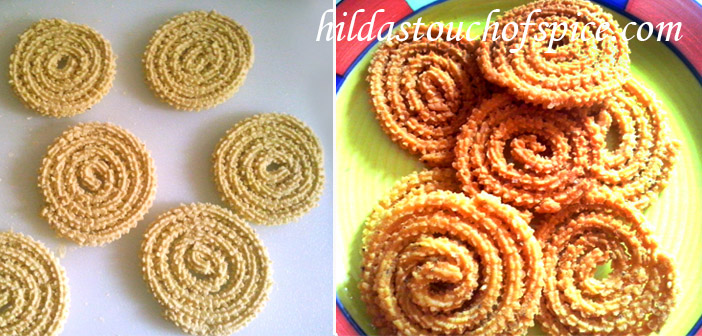 Every Indian loves their savouries even though one may have a sweet tooth. During festive occasions everyone balances their platter of goodies with some savouries. In India, all the important festive celebrations call for namkeens, crispy and crunchy munchies. There are assorted and innumerable crispies but the Chakli is one of the most relished savouries.
There are several variations of this popular spiral savory with different processes. A mix of lentils and grains with an addition of condiments and spices makes Chakli / Murukku very tasty and irrestible to eat. They are enjoyed in almost all states in India and are popular in South India, Maharashtra and Goa. Chakliis are mostly  enjoyed at tea time and also served with drinks. It is a no mess handy any time snack. It is good for school and college goers as well as working people which can help keep hunger pangs at bay.
Chakli is served on the savory platter at Christmas, Diwali, Ganesh Chaturthi, Dassera. It is a great idea to include it in your festive holiday gift hamper to your loved ones. This recipe for the Moong Dal Chakli is so simple, easy, needs just a few ingredients but is essential to follow the steps to get absolutely delicious, crispy and crunchy chaklis / spirals. They are not at all oily and you cant go wrong if you keep your focus right to achieve professional looking and tasting crispies.
Moong Dal is light and good for digestion. Proper steaming of maida ensures you get super light, crunchy and perfect chaklis every time you make them. All the condiments used aids digestion, has cooling elements and adds good taste value. If you are familiar using a cookie press then it will be a breeze to pipe them out into spirals. However, first timers will not find it difficult if you pipe out smaller spirals until you grasp the technique and have control over your wrist movements.
Try these gorgeous chaklis and adorn your festive platter with this awesome savory. Every time I make these… irrespective of the occasion; they are loved so much by my family and they hardly last a week.
It is a tried and tested recipe and never fails me. Give it a shot and I'm sure you will want to make them at home ever so often. Make sure you store them in airtight containers to keep them fresh and crunchy.
Enjoy! 🙂
Ingredients:
4 cups Maida / All Purpose Flour
½ cup Moong Dal
1 tsp Red Chilli Powder or to taste
¼ tsp. Asafoetida
1 tsp Coriander Powder
1 tbsp White Sesame Seeds / Til
½ tbsp Ajwain / Carom Seeds
Salt to taste
Water for kneading; if needed plus water for pressure cooking
Oil for deep frying
Procedure:
Pick, wash and soak moong dal in water for about 15 minutes.
Pressure cook moong dal in 1 ½ cups of water. Transfer the moong dal to a container after the pressure drops completely. Mash the dal to a fine paste.
Place maida in a cloth and tie it into a bundle and place it in a container.
Pressure cook the maida without the vent weight. Follow pressure cooker instructions for steaming or in an idli steamer for 20 minutes.
Then take out the bundle out of the steamer. Untie the bundle and allow the ball of maida to cool completely.  It will be a light ball. Break the ball to get fine flour. Sieve the flour and again break lumps if any and sieve until all of it is converted to flour.
In a sufficiently large bowl, place the flour. Add all the condiments and salt to taste and mix together the dry ingredients.
Add the mashed moong dal paste and knead well to form a stiff but pliable dough. The dal paste should have enough water content to mix and knead into a dough. Add water to form a dough only if necessary. I did not use water. It is important that you do not knead to a soft dough.
Cover the ball of dough and let it rest for about 30 minutes.
Use a star plate into the chakli mould to draw out spirals. Take small portions of dough, roll into a cylinder and fill the chakli mould / chakli press.
Follow the instructions to draw out the dough into spirals and place on a cookie tray or plate. Form chaklis until all the dough is used up.
Deep fry the moong dal chaklis in medium hot oil. Fry the chaklis in batches. Do not over crowd. Adjust heat if needed. Fry on both sides, flipping occasionally and basting with hot oil. Fry all the chaklis in this way.
Deep fry until lightly golden brown and crisp. When they are done they will float and sizzle. Drain completely with a slotted spoon and transfer onto a tray lined with absorbent paper. When cooled completely, they will turn crisp and crunchy.
Store in an airtight container. Enjoy at tea time or as an anytime snack. They are good to serve on your festive platter.