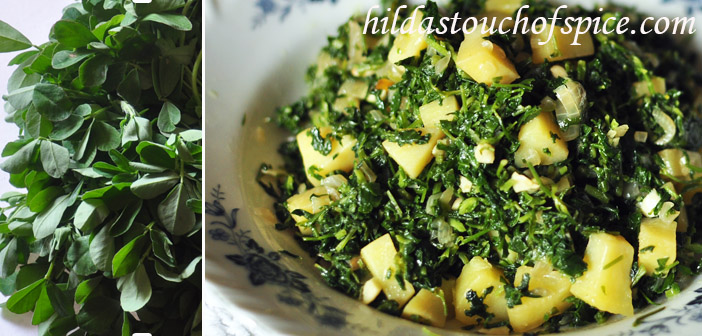 This delicious Maharashtrian Methi / Fenugreek Greens is so simple and easy to make with just a little pre-preparation. Methi is so good for you as it is not only nutritious but has immense medicinal value. Often I use an iron tawa just like most Maharashtrians do to cook our greens; namely methi, palak and chowli greens. Cooking on an iron tawa increases the iron content in the prepared greens.
We love methi bhaji / subzi; especially my hubby and me. It just tastes awesome with hot phulkas, rotis, chapattis. Farmers usually enjoy fresh methi bhaji with bhakris made with rice, jowar or bajra flour as this is their power packed greens for the hard work they put in each day in their fields just like the farmers in Punjab often include Sarson ka Saag and Makki di Roti in their diet.
Methi ani Batata (Fenugreek & Potatoes) is a perfect combination and relished by many. Kids love potatoes and adding them to vegetables is a good way to get them to eat. Include potatoes in green leafy vegetables and watch them enjoy their meal. We make these wonderful methi greens at least twice a week.
If you do not like potatoes or have health issues then you can prepare Methi Moong Dal Subzi. If some are averse to the slightly bitter taste of methi especially kids then you can introduce it to them in a delightful way by preparing Methi Matar Malai! For chicken lovers there is always the delectable Methi Murg and a healthy Methi Moong Dal Khichdi for those who are recuperating and want to pep up their appetite or simply for the love of comfort food in a bowl.
Today's post is one of my favorites. I just love this Maharashtrian way of preparing it. My neighbors, many of our friends and even my Mum would always make this bhaji with whole leaves. It is only when we had a maid cum cook for a short while; when I was a very busy working mum did I realize that we enjoyed methi bhaji better when the leaves were chopped and then cooked.I just relish it with the addition of potatoes and you bet kids will love it too. I have a lot to thank my maid Maltibai who served us well and took really good care of my kids just as her own. She had 5 daughters and they too helped to serve us better.
I love the flavor of garlic and the fresh green chillies in this methi ani batata bhaji. It does take the flavor of the finished dish a notch higher. I suggest you give my recipe a try if you are a die-hard fan of potato (batata / aloo), garlic, green chillies and of course the lush fresh green methi. Just a few ingredients and magically these super methi greens will be so full of flavor and good taste.
Maharashtrian style fresh methi bhaji /subzi is an integral part of everyday meals. A typical traditional lunch thali does include this awesome vibrant methi greens and it is also a popular packed work, school or college lunch option with bhakri or chapattis. It is obvious that this vegetable when prepared on a wood fired clay stove has a wonderful smoked flavor and one needs to taste to experience it. Do remember that the washed leaves do have enough water content so water may not be necessary while cooking.
It is not just the farming community in the villages but even people living in crowded cities and towns include methi in their diet as they do understand the nutritive and medicinal importance of this super vegetable even though it has a hint of bitter taste. It all depends on the quality or species of the methi leaves. As you get accustomed to eating it regularly; you will hardly feel the bitter taste. I would also say that it depends on how you cook it too. Cooking and relishing fresh methi bhaji with or without potatoes, sometimes with moong dal or whichever way you choose is all a matter of personal taste and preference. Almost everyone is aware and know that there are several variations to the good old fresh methi / fenugreek leaves.
Here's my personal Maharashtrian favorite greens… Methi ani Batata Bhaji!…as we refer to it in Marathi! As the heady aroma of fresh garlic, fresh green chillies, onions and the strong flavor of cooked methi wafts from your kitchen… and further swirls through the entire home and spreads in the surroundings… the slight hint of bitterness of methi mellowed further with spices and absorbed by those delicious soft potatoes never fails to please my palate and always gives me immense satisfaction on eating it. Try it out in your very own kitchen and relish it just the way I do. 🙂
Ingredients:
1 bunch fresh Methi / Fenugreek
2 med Onions (peeled & finely diced)
1 med. Potato (peel, dice & soak in water)
6-8 large flakes fresh Garlic (peeled & finely cut or bruised) or to taste
3 fresh Green Chillies (deseed & finely cut) or retain for spicy
4 tbsp Cooking Oil
A pinch of Sugar (optional)
Salt to taste
Procedure:
Pick fresh methi / fenugreek leaves. Soak them in enough normal water with a dash of salt for a couple of minutes and drain through a colander.
Wash several times and pass through a colander to drain out the dirt and grit if any.
Finally, let the washed leaves sit in the colander to drain out as much water as possible or use a salad spinner to save time.
Roughly chop the methi leaves.
Heat oil in a kadhai / wok or iron tawa until hot.
Drain off the water from the soaked potatoes and fry with a dash of salt until cooked.
Reduce heat and add the garlic. Sauté on low heat until lightly golden.
Add the green chillies and stir for a few seconds.
Next, add onions and a dash of salt and cook until the onions are translucent and glossy.
Add the chopped methi leaves and sauté on medium heat until the methi is wilted.
Add salt, sugar and give it a good stir.
Cook covered on simmer for 2 to 3 minutes.
Stir in between and sprinkle a few drops of water if necessary.
Taste to check if methi is cooked and adjust seasoning; if necessary.
Serve hot with bhakri, phulkas or chapattis.